New Generation

Universal Wealth
Platform

BOHARR
Try our Product, our team will arrange a demo and help to assist.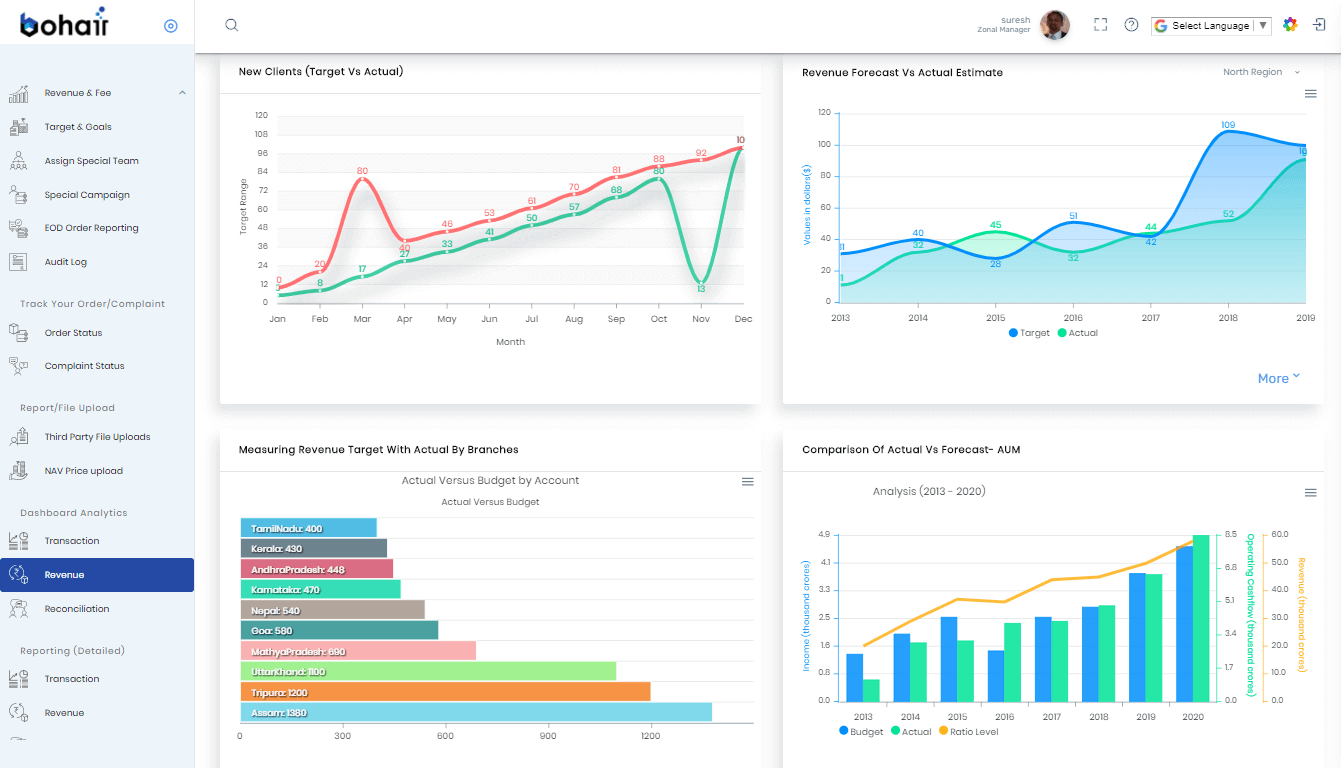 End 2 End

Solution for

Wealth Management
Manage Lead, Schedule Calendar Tracking
Convert Lead to Prospect, Follow-up and Onboard
Avoid data duplication – incremental data & single onboarding.
Permanent Scan & Store for digital onboarding documents
Mitigate Staggered Database Storage - Single storage of documents
Manage KYC – Across Status including trigger for eKYC – Risk Category & Assessment
API Plugins, SFTP interface, Pre-defined File Format Interface, No third-party redirection – Seamless customer interface.
Enhanced experience on seamless journey, Transaction Status
Lead & Prospect, Hierarchy Level Reports – Budget, actual and performance reporting, Customer Engagement, Incentive Calculation, Complaint Tracking, Customer Portfolio Access
Business Trackers – Flexibility in setting up Key Trackers
Transaction History, Portfolio Valuation, Performance Returns
Report Management – Generate, upload, download Reports
Export Reports for Internal and External Systems Entity Environment.
Revenue Recognition – on accrual basis, investor level
Revenue Analysis – Trend Analysis, Investor level etc.
Dynamic Charts, Detailed Reporting, Reconciliation – Track Status, fee accrual to receipt, Identify reconciling items for actionable.
Allows to e-sign the trade orders
Perform Online KYC and onboarding documents- eSign
Execute online onboarding documents
Flexibility to regenerate payment link for failed settlements
Tracking Payment Status online
Seamless trade and settlement matching
The Product to make

Wealth Management
Better
Boharr platform is built with a modular approach, seamlessly integrating independent modules to provide a comprehensive wealth management solution that meets the needs of businesses. We understand the importance of a unified platform that offers end-to-end capabilities, and our approach strikes the perfect balance between integration and independence. With our platform, clients can enjoy a flexible and efficient wealth management experience.